Designers that have got your book covered
Your book doesn't need to look good — it has to look great. A striking, brilliant design is a fundamental element in your book and is central to your marketing efforts. All of the designers on Reedsy can help you create that beautiful book, both inside and out.
We have managed to source some of the finest and most decorated book designers working in publishing today. On the Reedsy marketplace you will find talented and experienced cover designers, illustrators and typographers, who have dedicated their careers to creating beautiful books.
Look no further, here are the professionals who can help
Why do you need to hire a book design professional?
The truth is that if you fail to properly address the external appearance of your book, it will seriously reduce the chances of your work ever being noticed. Your book's cover is the first thing readers will see about you, and you know what they say about first impressions… Why risk all those hours of hard work on your book going unnoticed, since people really do judge a book by its cover?
"The importance of hiring a cover design professional" Rachel Lawston - 8 min
Learning from a world-class designer and typographer Erik Spiekermann - 5 min
It's just about the cover, right?
Not exactly. The cover is just the "packaging" of your book. Whilst you certainly want the packaging to be as beautiful and relevant as possible, you don't want your readers to be let down once they open the book. Typesetting, typography and illustrations all play an enormous role in the inside design of your book. Here's a great example of how you can stand out in print books through innovative layout design and typography:
Book Design in Self-Publishing: Breaking New Ground 8 min
Success stories
It's been an incredible journey so far, watching authors build the perfect editorial, design and marketing teams around them. We're particularly excited about great book design, so we love to highlight some of the best covers and projects that Reedsy has enabled. Here are just a couple of examples: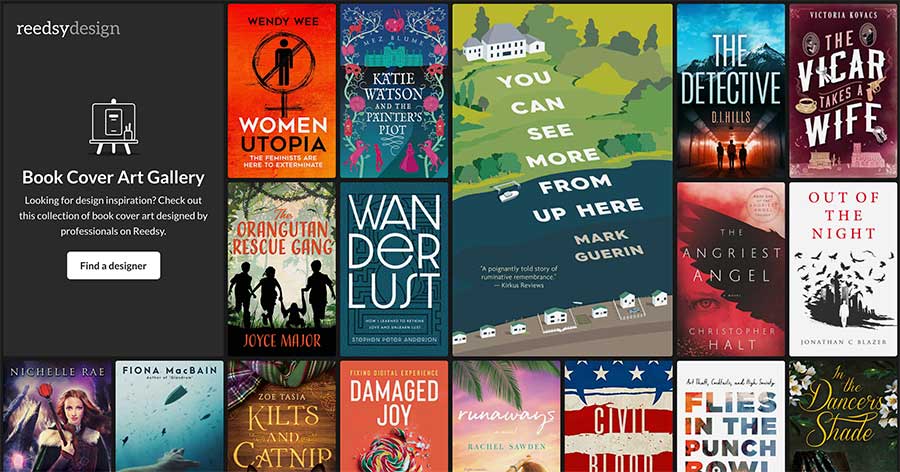 Book designer interviews
What happens when you bring the best book designers in the industry together? You learn a thing or two about their craft. Check out some of our interviews; we guarantee you'll learn something new, just like we did.
What To Expect From Your Book Cover Designer Simon Avery - (5 min)
The Perfect Book Cover: Interviewing Graphic Designer Nuno Moreira
Surrealist Cover Design: Interview with Jeff Huang
Design services definitions
"Book Design" encompasses quite a wide range of different skills and services. On our marketplace, you'll be able to search specifically for cover designers, illustrators, typesetters and typographers.
Book cover design Your book cover design is your first and foremost marketing tool. It needs to both reflect your genre and have an originality element that will draw the eyes of the reader, even in thumbnail size. Read more
Book illustration Book illustrations are vital in certain genres and totally optional in others. Finding an illustrator who can put images on your words is no easy task, but it can become the most rewarding partnership in your writing career. Read more
Book layout design The layout design, or typesetting, of a print book is what usually marks the difference between an amateur writer and a professional one. For ebook formats, the formatting is just as important, and can be quite complex for certain types of books. Read more
Typography Typography is the art of arranging words and other elements on the page. It will play an important role on your cover, and an even more important one on your typesetting. Read more