Overview
Hi! My name is Nat - originally from Canada but finding my way around the industrial streets of Manchester -
I absolutely love designing book covers. I've been art directing and designing eye-catching book covers across a range of genres, for the past five years. My work has been featured in Entertainment Weekly and Spine Magazine, and I have been honoured to design the covers for some award winning books.
Before I became a book designer, I studied graphic design and upon obtaining my degree I went back to complete my Masters in Publishing with UAL in London. My love of books (and of reading!) is what pushes me to keep developing my skills as an artist. I care about the stories I design for – without them I would not be able to do what it is I do. Every great design, begins with an even better story.

Having such an eclectic design background and skill set - creating and implementing region wide marketing campaigns, working with established and new companies to develop brand identity, and designing book covers across a range of genres - has allowed me to create not only stunning, but effective work for my clients be they publishing houses or self-published authors. I am able to look at design from a multitude of angles ensuring that what you get is not only a striking piece of art, it will fit perfectly within your market and be a complete embodiment of your work, and of you.
I could not imagine doing anything else, and because of that I genuinely put everything I can into my work. Please don't hesitate to get in touch with Q's, ideas, or just a chat! I look forward to chatting with you about your story, and how I can bring it to life.
Services
Fiction
Action & Adventure
Fantasy
Science Fiction
Thriller & Suspense
Young Adult
Awards
2007, 3rd Place Emerging Designer Award, WCFW
2009, Best Design Award, WCFW
Certifications
Masters in Publishing
Bachelors Degree in Graphic Design & Illustration
Work experience
As a book designer, I design fiction covers that are not only striking and eye catching, but are truly representative of the authors work. Working on illustrated titles I take ownership for all stages of the design process, from initial concept through to page layout, image profiling and manipulation, to preparation and final handover to production.
Apr, 2015 — Apr, 2019 (about 4 years)
Pretty & Inked Magazine is an alternative lifestyle and tattoo magazine based out of North America. I was responsible for overseeing each issue released from initial concept to final print production and distribution, and everything in-between. I managed a staff of 5 while commissioning writers, photographers and designers to assist with completion. My role also involved market research, project management, photo shoot design, budget and cost analysis, print and distribution, as well as networking and negotiation.
Mar, 2013 — Oct, 2016 (over 3 years)
As a lead graphic designer, I created effective, striking and intelligent design work within a limited time frame. Working with various companies across a broad range of industries, and across the UK, I assisted in the overall development and production of their brand. With a specialisation in brand development, I worked with numerous start ups helping them release their companies overall identity, fine tuning their brand guidelines. I have worked on a multitude of projects from small scale, such as business cards and promo materials, to large scale, such as poster print, vehicle wraps, and cross country campaigns.
David D.
Oct, 2023
Krysta M.
May, 2023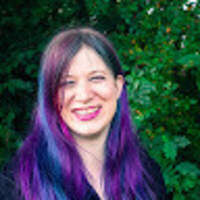 Claire B.
Apr, 2023
Tanya R.
Mar, 2023
Eleanor M.
Feb, 2023
Sign up to read more reviews
Create a free Reedsy account to connect with Natasha and thousands of other publishing professionals on Reedsy.