Overview
I am a publisher and editor, with extensive experience editing and publishing a range of books, from fiction and poetry to illustrated art books, literary biography, history and philosophy.

I am the founder of two independent publishing houses, specialising in publishing innovative works of poetry and fiction. I have worked as an editor at Reaktion Books, and as a researcher and producer on factual television programmes. I am also the Digital Editor at Poetry London magazine.
I have edited over 100 books, and hold BA and MA degrees in English Literature from University College London. I have given talks and seminars on publishing to students at the Royal College of Art, Birkbeck and the Open University.
My services include editorial assessment, copy-editing, proofreading and developmental editing. I can work on poetry, novels, essays, anthologies and illustrated books. I love fiction and poetry most of all, and get great pleasure from the process of improving any piece of writing!
Services
Fiction
Anthologies
Literary Fiction
Poetry
Short Story
Languages
English (UK)
English (US)
Work experience
Well-known publishing company/editorial service provider
Jan, 2018 — Present
I work as a freelance copyeditor, proofreader and copywriter for White Fox Publishing services.
I am a co-founder and director of House Sparrow Press; our publications include books by John Berger and Anne Michaels.
Oct, 2016 — Sep, 2018 (almost 2 years)
I worked as a desk editor at Reaktion Books working on a very wide range of non-fiction titles, from literary biography to city travel guides, popular science and philosophy books, illustrated art books and books about food.
Franklyn J.
May, 2022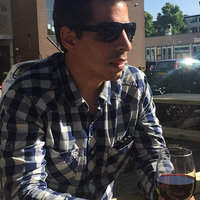 Nuno F.
Oct, 2021
Danny R.
Aug, 2020
Konstantinos D.
Feb, 2020
Sean G.
Feb, 2020