What is Reedsy's book editing tool?
The Reedsy Book Editor is a book production tool that allows you to effortlessly write and format a piece of writing for publishing. Our proprietary book formatting tool has already enabled thousands of authors to professionally typeset their books, completely free of charge!
Where can I find Reedsy's book editor?
Our tool is available to any Reedsy user. As soon as you sign up with Reedsy, just head over to "My Books," create a book, and hit the "Write" button. The tool is web-based, so you don't need to download an application to use it: your data is securely stored online in the cloud. (And yes, we do back everything up!)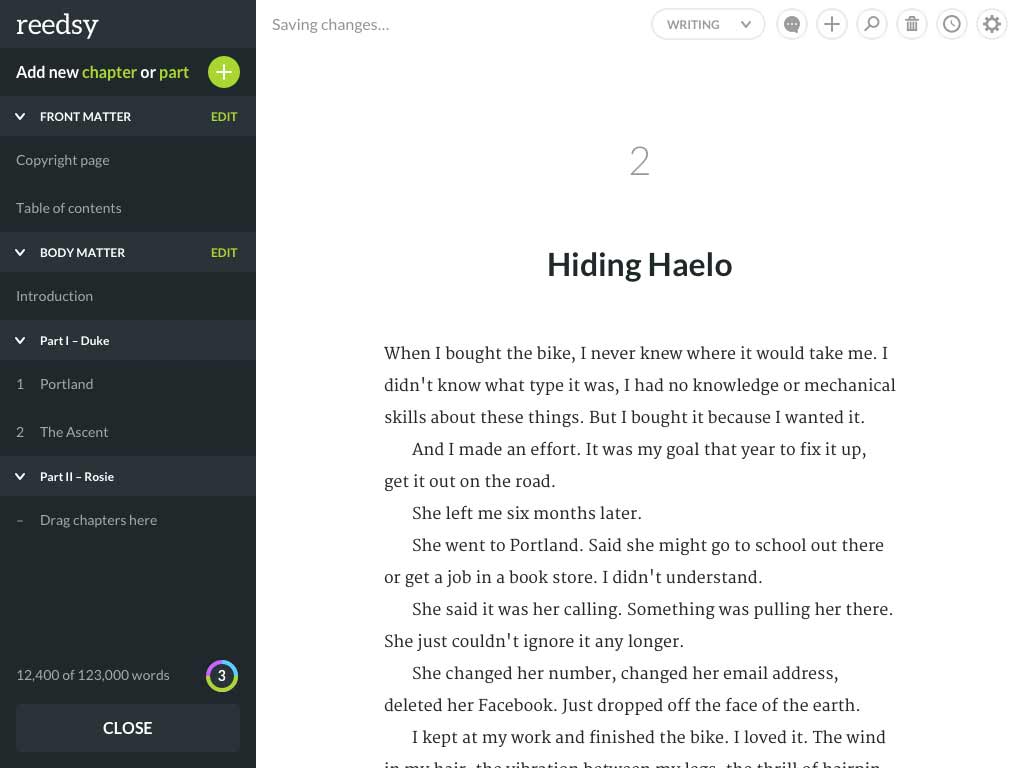 How much does it cost?
Our tool is free, and will always be free.
Can I see a demo?
Yes! We made a video a few months ago that showcases all the little bells and whistles that come with our tool.
Why did you decide to develop the Reedsy Formatting Tool?
Turning your manuscript (a Word or Scrivener document) into a file that you can use for distribution isn't a straightforward process. Yet it's an issue all authors who self-publish run into: as you prepare for publication, you need specific, properly formatted files to release both an ebook and a print books and reach a large audience. The BIG issue was that there wasn't a single free tool out there that would make this process simple. Even programs targeted at authors like Scrivener would make you jump through hoops to get the files you needed. For ebooks, your files need to be compatible with at the Kindle Store, the iBookstore AND the Kobo Store. Finding an export that will be compatible with two different platforms is a headache in itself, much less all of them. For print books, your files will also need to work with all sorts of print-on-demand services with different criteria, such as Blurb (a Reedsy partner), Createspace, Lulu and IngramSpark. That's why we developed our one-click formatting tool. Reedsy's editor is the first free writing tool that allows you to export files that are fully compatible with all those platforms.