Overview
My mission is to enable writers to connect with readers through clear and vibrant prose. I approach every project with sensitivity and respect for the author's voice and vision. For me, the goal of every edit, no matter how big or small, is to build a stronger bridge between writer and reader.

For more than fifteen years, I've been a freelance editor for Simon & Schuster (where I began my trade publishing career as an in-house production editor), Penguin Random House, HarperCollins, and Macmillan as well as smaller houses and self-publishing authors. My reputation as a sensitive, careful, and thoughtful editor has brought me manuscripts from just about every genre by an incredibly diverse array of authors, from first-time novelists to beloved, long-established writers, from twentysomething bloggers to globe-trotting journalists with decades of experience, and even a former president, for good measure.

And now a few words from authors who were kind enough to thank me in their books:

[Thank you to] everyone at Scribner—especially copy editor Aja Pollock, who knew the correct spelling of "Yog-Sothoth."
--Patton Oswalt, author of Zombie Spaceship Wasteland

Our sincere thanks also go to Aja Pollock, our sharp-eyed copy editor, whose thoroughness and flair for culture high and not-so-high are an exceedingly rare combination.
--Dade Hayes and Dawn Chmielewski, authors of Binge Times

Copy editor Aja Pollock's eagle eye took the book to a higher level.
--Bill Parcells and Nunyo Demasio, authors of Parcells: A Football Life

Aja Pollock is not only a brilliant copy editor but saved me countless times from undoubtedly incurring the wrath of horror fans everywhere with careless mistakes.
--Adam Rockoff, author of The Horror of It All

My copy editor, Aja Pollock, saved me from countless errors.
--H. D. S. Greenway, author of Foreign Correspondent

Special thanks to Aja Pollock for all the ways you bettered the manuscript.
--Lauren Weisberger, author of Revenge Wears Prada

And [thanks] especially to Aja Pollock, my copy editor, an unsung hero, who was meticulous and supersmart.
--Rachel Greenwald, author of Have Him at Hello



Services
Non-Fiction
Art
Biographies & Memoirs
Entertainment
Music
Fiction
Fantasy
Historical Fiction
Humor & Comedy
Literary Fiction
Mystery & Crime
Thriller & Suspense
Women's Fiction
Certifications
NYU Summer Publishing Institute
BA in Medieval Culture from Brown University
Work experience
on my porch, at a coffee shop, in far-flung places . . .
Apr, 2004 — Present
Freelance copy editor, line editor, and development editor for publishers large and small, as well as self-published authors.
Mar, 2004 — Mar, 2006 (about 2 years)
Brooke D.
Sep, 2023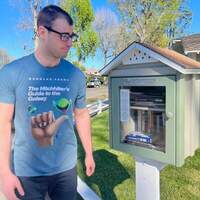 Ryan M.
May, 2023
Michele P.
Dec, 2022
Elayne Z.
Dec, 2022
Michele P.
Oct, 2022
Sign up to read more reviews
Create a free Reedsy account to connect with Aja and thousands of other publishing professionals on Reedsy.