Blog – Posted on Wednesday, Nov 11
How to Sell Books on Amazon: A Failsafe Guide for 2023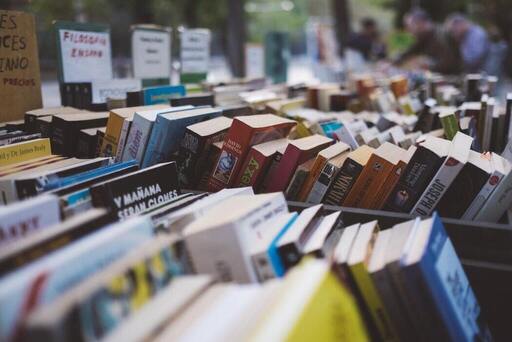 With a trove of timeless classics and an ever-growing number of must-read releases, it's no wonder so many of us have overstuffed bookshelves in need of a cull. If you've started stacking novels on the floor (and tripping over them in the night), then you might be flirting with the idea of selling some of your used books on Amazon.
A surefire way to clear space (and make a few bucks in the process) it's also super quick and easy to get up and running! So if you're interested in funding your addiction to true crime books, or need to make room for the newest romance novels, then keep reading for our foolproof guide on how to sell books on Amazon.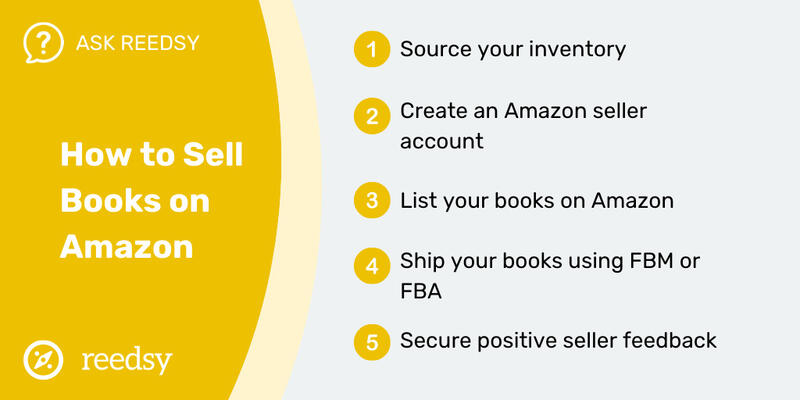 1. Source your inventory
Most newbies tend to sell books from their own shelves. Not only is this the simplest way to source an inventory, it's also a great way to de-clutter. All you have to do is search your home for books that are gathering dust! But if you develop a taste for life as an Amazon bookseller, there are a number of places where you can find more used books to sell. 
Book sales are an obvious place to start. There's always a book sale going on somewhere: try flea markets, yard sales, estate sales, or clearouts at a library or store. And with whole collections out on show, you can hunt for treasure (like first editions) or buy in bulk.
When traveling to book sales isn't an option, we have the answer. Head to sites like eBay, Craigslist, and Facebook Marketplace to find lots of used books sold at low prices, then simply wait for them to arrive at your door and re-list them on Amazon — all from the comfort of your own home!
Top Tip: Textbooks are a great target! They're always in high demand (especially in fall and spring) and tend to have a higher price point.
Buying in bulk vs. Cherry-picking
Buying bundles 'blind' is a great (and cheap!) way to build a large inventory in a short space of time. But when you buy in bulk, you risk collecting titles that are in bad condition or are pre-ISBN — or even getting stuck with a batch of duds that don't sell! If you can take the time to cherry-pick books, you're more likely to make a healthy profit as a new seller.
One failsafe way of sifting through the clutter is to check the 'Best Sellers Rank' (BSR) on Amazon. Every book sold on Amazon has a BSR that indicates how often it sells. For example, a book ranked #1 probably sells 1,500 copies a month, while a book ranked #1,000,000 will have a slim chance of finding a home.
Top Tip: Look for books with a BSR lower than 100,000 — these can be sold in less than 24 hours!
The 'Best Sellers Rank' can be found on a book's page listing, but to make life easier, lots of sellers use a handheld scanner when hunting for inventory. Amazon's mobile seller app has a scanner that tells you all you need to know: the product price, approximate profits, BSR, and the total number of sellers. You can download it here from the Apple Store and here from Google Play.
2. Create an Amazon seller account
Now that we've covered how to buy books, let's get to the crux of the post: how to sell books on Amazon. Before you begin, you'll need to set up your Amazon seller account. Head to the 'Sell on Amazon' page and click 'sign up'. First you will have to decide whether you'd like to be an 'individual seller' or a 'professional seller'.
Top Tip: Individual sellers tend to sell fewer than 40 items a month and are charged $0.99 per item. Professional sellers, who are looking to generate a regular income, are charged a monthly fee of $39.99. So if they sell more than 40 items, the professional plan pays for itself!
Then, there are five steps to complete:
Enter your name (and your business name, if you're a professional seller). 
Enter your business address (your home address if you're selling from home), your display name, your website if you have one, and your phone number.
Set up your billing method with the card with which you'll pay any fees, then the deposit method — so Amazon knows where to deposit your payments. For this you'll need your bank account details. 
Now you'll go through a quick tax interview. If you're a resident of the US you'll have to enter your Social Security Number, and If you're registering as a business, you should have an Employer Identification Number (EIN) from the IRS.
Finally, you'll complete an identity verification process using images of your passport or driver's license. It may take Amazon a few days to verify your identity, but they'll let you know when you're ready to go.
If you have all the information on hand when complete those five steps, then it shouldn't take more than a few minutes to set up your Amazon seller account and start selling!
Top Tip: Your display name should both be eye-catching and trustworthy, so make sure you've prepared a few suitable monikers beforehand!
Before you say goodbye to your dusty old books, why not discover fresh new books to love on Reedsy Discovery?
Looking for something new to read?
Trust real people, not robots, to give you book recommendations.
Or sign up with an email address
3. List your books on Amazon
Now that you're registered to sell, it's time to start listing all the books you've gathered. Most books will already be listed on Amazon, which makes your job a lot easier! Simply search for the correct edition using the title or ISBN — which can be found above the barcode or inside the dust jacket — head to the product listing page, and let Amazon know you have a copy to sell by clicking 'Sell on Amazon'.
Top Tip: In the rare case that your book is not already on Amazon, you'll need to create a new listing. Make sure you take high-quality photos and write a proper product description, using the book's blurb if you can.
Then, you'll be redirected to a form where you will have to enter:
The price of the book,
the number of copies you're selling, and
the book's condition.
As a new seller, you may need to set your price a little lower than your competitors do in order to generate a few early sales and build up your reputation. Don't worry: with the lowest price, you're sure to win the 'Buy Box', which means that if someone hits 'Add to Cart' they'll be buying your book.
Top Tip: Although there's year-round demand for books, seasonality matters — so make sure you've listed plenty of books in the weeks leading up to Christmas!
4. Ship your books: FBM vs. FBA
There are two ways to fulfil your orders on Amazon: 'Fulfillment by Merchant' (FBM) and 'Fulfillment by Amazon' (FBA).
Fulfillment by Merchant
If you choose FBM, you will have to pack and ship each book yourself, using the courier of your choice. Of course, this means covering the costs of shipping and handling yourself, too — as well as the cost of your time. 
Amazon has three delivery options and charges your customers a fixed fee that varies depending on which option they choose. For example, standard delivery costs $3.99. Amazon will credit you this amount no matter how much shipping costs you — so if you can deliver the book for less, that's money in your pocket! But if you think your expenses will exceed $3.99, it's up to you to adjust the price of the book accordingly. 
Top Tip: Choose FBM if you're only selling a few books, or if you have a large enough operation that your shipping costs are lower than Amazon's.
Fulfillment by Amazon
If that sounds like a drag, don't worry: Amazon will now store and ship your items for you once they're sold. There are several benefits to this method: as well as being a straightforward process — simply pack your books in a strong box and send them to the closest fulfillment center — Amazon will process returns and handle customer service, and the items you sell will be eligible for Prime shipping, which may attract more customers.
You pay Amazon for shipping and handling based on the weight of the book, as well as a monthly fee for storage, based on the amount of space you take up. One thing to be wary of with FBA is the possibility of accumulating extra fees over time, such as handling add-ons and storage penalties. These can be avoided, however, if you manage your inventory well.
Top Tip: Choose FBA if you have lots of books to ship and your operation isn't large enough to have shipping costs lower than the FBA fees.
5. Secure positive seller feedback
Unfortunately, shipping your books isn't a case of "out of sight, out mind". Once a book is sold and on its way, you need to concern yourself with customer service to secure a positive seller feedback score. 
Since you're not the author, there's no need to worry about book reviews; your job is to ensure that customers receive their package on time and in the correct condition. Amazon sellers are also expected to reply to customer emails within 24 hours and match Amazon's return policy. This is a big ask, if you're shipping lots of orders. But don't forget, there's always the option of handing it all over to Amazon by switching to FBA.
Top Tip: Never make the mistake of listing books under the wrong condition! This is a surefire way to receive negative feedback.
If you're keener on handing out reviews yourself, consider joining us as a book reviewer and getting paid to read.
How much does it cost to sell books on Amazon?
Now that you know how to sell books on Amazon, there are a few fees to factor in before getting started. One is the 15% referral fee that you pay to Amazon on each book. Another is the $1.80 closing fee that applies to all media items.
Then there's the cost of your selling plan. If you register as an individual seller, you'll pay a fee of $0.99 per item; if you sign up for the professional selling plan, you are charged $39.99. So if you sell more than 40 items a month, the professional plan pays for itself.
Those are just the upfront costs, of course. Don't forget that you'll need to cover your operating costs if you choose to fulfill your orders yourself, or the cost of FBA if you plan to hand it all over to Amazon! You can use the FBA Revenue Calculator to give you a cost estimate per unit, and add to that the cost of storage at $0.75 per cubic foot, as well as the cost of shipping to the fulfillment center. And be sure to heed our warning about long-term FBA fees, which can really add up over time if you don't manage your inventory efficiently.
Top Tip: FBA storage fees skyrocket over the holiday season, going from $0.75 per cubic foot to $2.40 per cubic foot!
***
Now you've completed our guide on how to sell books on Amazon — and we've given you all of our top tips — there's nothing to stop you from clearing out those dusty old books, and making the space (and money) for some exciting new reads. So good luck and happy selling!