Blog – Posted on Monday, Nov 18
The 43 Best True Crime Books of All Time
Humans have long been fascinated by all things fearful and forbidden, and for centuries now, the pinnacle of that fascination has been crime. From the penny dreadfuls of yore to mega-hit podcasts like Serial, our collective appetite for these gory stories has never waned — which means there's a record number of true crime books on shelves today, some more skillfully executed (no pun intended) than others.
Fortunately, we've unearthed the most wickedly wonderful works for your enjoyment, resulting in this list of the best true crime books of all time. Whether you're intrigued by domestic disappearances or monstrous murderers, you're sure to have the crime of your life (pun intended this time) looking for your next read.
Think that you can outwit a mystery author? Take our 1-minute quiz below to find out!
Arguably the book that launched the true crime genre as we know it, Capote's career-defining work begins with a shocking quadruple homicide in a quiet Kansas town. Though the case itself is open-and-shut, the author still manages to extract a spellbinding, psychologically rich story in the aftermath, based on interviews with the killers and exhaustive research on the victims. If you're just starting to read true crime — or hoping to write it yourself one day — In Cold Blood is an unmissable introduction to the genre.
The Manson family murders were some of the most sensationalized killings of the 21st century. But how many of the rumors around them actually stemmed from reality? Vincent Bugliosi, who prosecuted Manson in 1970, sets the record straight in this chilling yet mesmerizing account of his investigation, arrest, and conviction. (The title is taken from Manson's notorious delusion of an imminent and destructive race war, which he dubbed "Helter Skelter.")
Another dramatic murder case takes center stage in the Pulitzer Prize-winning The Executioner's Song. Yet the interesting element here is not the crime itself — a relatively run-of-the-mill double homicide — but the wish of the killer, Gary Gilmore, to be executed as soon as possible. Mailer is a dutiful biographer, documenting Gilmore's early life and criminal acts, but the beating heart of the story is definitely the irony surrounding our ideas about death… especially in context of the (at the time) recently reinstated death penalty in the United States.
We wouldn't leave the twisted tale of Ted Bundy off this list, and as a dedicated writer and one of Bundy's closest friends, Ann Rule is uniquely qualified to tell it. She paints young Bundy as a fresh-faced college student, empathetic and kind, someone she would have trusted to care for her own children. They fell out of touch in 1974, and Rule soon heard reports of brutal murders carried out by a man matching Bundy's description. Yet it took years for her to even admit the possibility of his involvement — a truth that clearly haunts her and colors her narration, lending this book incredible weight even as the prose remains crisp and readable.
5. Zodiac by Robert Graysmith
This book is the definitive account of the still-unidentified Zodiac Killer, who terrorized Northern California during the 1960s and 70s. Robert Graysmith was a cartoonist at the San Francisco Chronicle when the Zodiac began sending letters to the paper, sparking a 50-year mystery and Graysmith's life mission to unmask the culprit. Zodiac is the result of over ten years' painstaking research, with a number of plausible theories presented — though of course, none that panned out. Any true crime reader who's a sucker for decade-spanning cold cases, this one's for you.
In 1970, a pregnant woman and her two daughters were stabbed to death in North Carolina. The prime suspect? Her husband, Jeffrey Macdonald — who quickly proposed a book deal to bestselling nonfiction writer Joe McGinniss, under the impression that McGinniss' work would exonerate him. But that book is not the one listed here. Instead, it's Janet Malcolm's brilliantly meta masterpiece about the actual relationship between McGinniss and MacDonald: how the journalist pretended to believe his subject's claims of innocence, all the while scheming to reveal evidence of his guilt (a deception Malcolm labels as "morally indefensible").
Frequently listed as one of the best true crime books of all time, Berendt's work is renowned for its holistic style, vividly conjuring not just the crime in question but also the distinct atmosphere of 1980s Georgia. That's not to say the crime itself isn't fascinating: a male escort killed by a respected local antiques dealer, who then endured four trials to be acquitted. But it's the town's residents who make this story really exceptional, as they give their individual takes on the incident and reveal the vibrant character of the Deep South.
Remember The Executioner's Song, number three on this list, which revolved around murderer Gary Gilmore and his wish to die? Take a look at the author's surname here: Mikal is Gary's younger brother. Shot in the Heart recounts their upbringing "inside the house where murder is born," giving Gary's crimes an eerie fatalistic ring and making clear that Mikal barely escaped a similar end. His unflinching descriptions of the family's alcoholism and abuse are not easy to get through, but they do facilitate a more nuanced view of even the most dire criminals.
9. Mindhunter by John E. Douglas
The inspiration for the Netflix series of the same name, this book by former FBI agent Douglas offers a fascinating glimpse into the bureau's criminal profiling process. It includes profiles of famous murderers, such as Wayne Williams and Edmund Kemper, and even suggests specific steps to help police and special agents capture more felons — making Mindhunter the only title on this list that's both riveting true crime and genuinely applicable self-help.
Not to be confused with the similarly titled Gillian Flynn book, this smooth hybrid of memoir and investigative journalism follows Ellroy as he attempts to solve his mother's murder. Though Geneva Ellroy's case was abandoned for nearly 40 years, Ellroy — himself a crime fiction writer — is determined to crack it, hiring an L.A. county homicide detective to help him out. Intertwined with details of their investigation are memories of Ellroy's childhood, and profound self-examination of what his mother truly meant to him.
O.J. Simpson's infamous "trial of the century" has been rehashed innumerable times over the years, but never with such razor-sharp perception of absolutely every element in the case. Toobin, a Harvard-educated lawyer and high-level legal analyst, portrays both sides of the trial with total acuity and depth — demonstrating the utter exceptionality of what happened, while also unpacking the reasons why. If you're remotely interested in criminal law, this one is a must-read (or a must-watch in the form of the Netflix adaptation, The People v. O. J. Simpson).
Love the detailed analyses of true crime, but not so much its authors' penchant for murders? The Orchid Thief is your saving grace: despite the breezy premise about a group of "orchid poachers" in south Florida, the author's thorough research and gorgeous narration make this book just as compelling as any other work of true crime. Susan Orlean is the undisputed master of weaving quotidian subject matter into literary gold (as she also proved in 2018's The Library Book).
Okay, now back to murder — in fact, back to one of the first documented serial killers in American history. The year is 1893, and the World's Exposition in Chicago (the titular "White City") is in full swing. Its chief architect, Daniel Burnham, observes his success as a proud parent would their child… but beneath the shining surface, something rotten lurks. A pharmacist by the name of H.H. Holmes plans to lure visitors to his "World's Fair Hotel," where he will murder and dispose of them via a Sweeney Todd-esque setup. How many victims will Holmes claim, and who (if anyone) can stop this devil?
It would initially seem that the devils in this tale are a trio of teenagers who were charged with murdering children in 1993. However, the truly wicked figures in this case are the police and prosecutors, who convicted the teens on circumstantial evidence and false testimony. Leveritt details the "Satanic panic" of the 1990s and how it likely influenced this decision, while also posing a theory about the true killer: one of the children's stepfathers.
If you're a true crime aficionado who's somehow never read Krakauer, you're in for a real treat. That said, you should steel yourself before starting this one: it centers on two fundamentalist Mormons who murder their sister-in-law and her new baby after allegedly receiving a "removal revelation" from God. Parallel to this shudder-inducing story, Krakauer delves into the history of Mormonism and its many controversial tenets, from the predilection for polygamy to the constant communication with God… and the dangerous consequences these ideas can have when interpreted by unstable minds.
John Grisham's sole contribution to the nonfiction canon is another gripping tale of a wrongly convicted individual, this time for the rape and murder of a young cocktail waitress. While the drug- and alcohol-addicted Ron Williamson was perhaps no role model, Grisham clearly renders how evidence was mishandled and distorted by a desperate police department in order to frame him for the crime. As a result, Williamson was sentenced to death in 1988 — but was he able to escape his doomed fate? You'll have to read The Innocent Man to find out.
One morning in 1860, three-year-old Saville Kent was discovered with a slashed throat and stab wounds all over his body. The violent, seemingly senseless crime drew a great deal of attention, and soon on the case was Scotland Yard's most eminent detective: Jonathan Whicher. Yet the truth of the case continually eluded him, and when he eventually accused Kent's half-sister of the murder, Whicher was met with shock and dismay in the community — and began to second-guess not only this particular conclusion, but his entire crime-solving career.
18. Columbine by Dave Cullen
Ten years after the 1999 Columbine massacre, Cullen published this extensive volume detailing its before, during, and after. The narrative alternates between the killers' planning stages and the victims' experiences in the aftermath, intercut with brief but horrific scenes of the shooting (and attempted bombing) itself. A truly devastating account of a largely preventable tragedy, Columbine is nonetheless required reading for those who may have forgotten or minimized the events of that day, if only so we can strive harder to prevent more like it.
Another good option for people who want to avoid blood and guts (though not the actual act of murder) is this fascinating guide to the early days of forensic toxicology. Blum takes the reader on a journey from 1915 to 1936, beginning with the appointment of New York City's first chief medical examiner, Charles Norris. After teaming up with toxicologist Alexander Gettler, the two go on to prove the truth about various medical mysteries and unusual crimes, from poisoned Prohibition alcohol to accidental carbon monoxide deaths — with Blum explaining the scientific basis for each case along the way.
In the early summer of 2000, 21-year-old Lucie Blackman moved from England to Tokyo and began working as a hostess. Just two months later, she disappeared. The Japanese police and British press became involved, and the incident exploded into international speculation — what really happened to Lucie? Parry's book covers both the peculiar and often poisonous sexual culture of Japan to which Lucie fell prey, as well as the specific phenomenon of young white women's criminal cases and the disproportionate attention they receive in the media.
Thurgood Marshall skyrocketed to fame after Brown v. Board of Education. But did you know that just before that, he was involved in an equally controversial case? Devil in the Grove documents how in Florida, 1949, four young black men were accused of sexual assault; one was killed and the other three violently beaten by the sheriff. Undeterred by outside threats, Marshall then took the stand to defend them — marking a turning point for his career and the civil rights movement as a whole.
In the ultimate "what would you do?" scenario, Five Days at Memorial recalls the events at Memorial Medical Center in the days immediately following Hurricane Katrina. Under incredibly high-pressure circumstances, the decision was made to de-prioritize critically ill patients with Do Not Resuscitate orders — and even to hasten the deaths of those unlikely to survive the evacuation, using high doses of morphine. But this is no tale of heartless sociopaths: instead, it's one of hardworking professionals faced with a nearly impossible choice, as Fink makes evident through her detailed and sympathetic prose.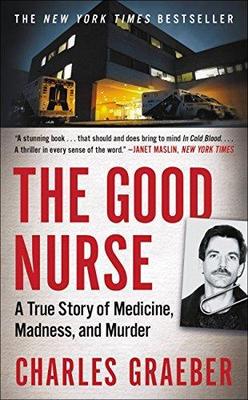 In stark contrast to the doctors and nurses of Memorial, the subject of Graeber's The Good Nurse is anything but well-intentioned. Though Charles Cullen was arrested in 2003 and initially charged with only two counts of murder, it soon emerged that he had killed dozens more, possibly hundreds — making him the most prolific serial killer in American history. This report on Cullen, who killed via patients' IV bags, is a chilling indictment of an unregulated drug-dispensing system and hospital supervisors' "don't ask, don't tell" attitude.
After the Boston Marathon bombing of 2013, which killed five people and grievously injured countless others, the bombers were quickly identified: brothers Dzhokhar and Tamerlan Tsarnaev, who had self-radicalized after immigrating to America. The Brothers, released the day before Dzhokhar's court conviction, reveals both the origins of the Tsarnaevs and the disturbing psychology behind such politically motivated terrorist attacks — how the perpetrators remain utterly convinced, even in the wake of arrest, that they've acted righteously.
This intimate case study takes us inside the mind of Isaiah Kalebu, who committed a double rape and murder in 2009. Once again, it's not the crime itself that's noteworthy, but the circumstances: Sanders paints Kalebu as an ill-fated victim of his family, the system, and all those who watched him gravitate toward instability and violence without doing anything to help. The terrible consequences of this collective failure give the reader a great deal to consider, from the complex motivations of criminals to the question of who is truly responsible.
If you've listened to Serial, you already know the story of Adnan Syed. Shoddily convicted in 1999 for the murder of his ex-girlfriend, he's been serving a life sentence for almost twenty years now. Chaudry, who brought the case to the attention of Serial, has since decided to take matters into her own hands: the result is Adnan's Story. This book, written from Chaudry's expert perspective as a lawyer, goes into extraordinary detail about the crime that took place — including new forensic evidence and a suspect who could potentially exonerate Syed.
Another tragic cold case resurfaces in 2016's Who Killed These Girls?, which recounts the events surrounding the 1991 Austin yogurt shop murders. Four teenage girls were sexually assaulted, shot, and left to burn after their killer set fire to the frozen yogurt store where they worked. What followed was a shockingly incompetent display by the Austin police, who arrested several teenage boys and coerced them into confessing, only for DNA evidence to prove conclusively otherwise. The true criminal's identity remains unknown, but Lowry still manages to bring justice to the victims simply by telling their stories.
The lynching of 14-year-old Emmett Till has long been recognized as a horrific hate crime that catalyzed the American civil rights movement. But in rendering Till a historic symbol, we've forgotten that he was also just a boy — a boy whose life was stolen from him in an impossibly cruel and undeserved manner. This book delves into the life and death of Emmett Till, potently presenting the aftermath of his lynching as both political and deeply personal.
29. Black Edge by Sheelah Kolhatkar
After a long string of deaths, let's turn to a non-murderous (yet still morally bankrupt — no pun intended) crime: insider trading! Black Edge details the rise and fall of Steven A. Cohen and his hedge fund group, SAC Capital Advisors, which closed following a massive investigation in 2016. Kolhatkar, herself a former hedge fund analyst, skillfully compiles all essential info while still making Black Edge compulsively readable — similar to Michael Lewis' financial-disaster smash hit The Big Short. However, idealistic readers beware: just because Cohen was caught, doesn't mean this story has a happy ending.
The money-motivated murders in this book truly exemplify the darkest depths of human prejudice, jealousy, greed, and evil. In the 1920s, the Osage Native Americans of Oklahoma possessed a wealth of natural oil deposits beneath their land; naturally, they soon found themselves under violent attack from outsiders who wanted the oil for themselves. The death toll reached dozens before serious intervention — from none other than the newly formed Bureau of Investigations. If you're fascinated by the ugliest hidden pockets of American history and the fledgling days of the FBI, pick up Killers of the Flower Moon.
"Don't drink the Kool-Aid" has become an infamous saying in popular culture, but what of the tragedy behind it? In The Road to Jonestown, Jeff Guinn charts the evolution of Jim Jones from unorthodox minister to unstable and dangerous cult leader, magnetically accumulating followers along the way. This book covers the immense corruption of Jones' character (adultery, drug addiction, and endless lies) even as he preached wholesome virtues, and illuminates just how he seduced so many civilians into his twisted way of life… and ultimately, his way of death. 
A strikingly personal work from Marzano-Lesnevich (its subtitle reads "a murder and a memoir"), this book begins with her watching a videotape of Ricky Langley, who was convicted of killing a six-year-old boy in 1992. Overwhelmed by emotion, our author — at that time a young lawyer — is haunted by the case for years… until she finally cracks open some old files and starts to analyze what really happened, through the unique lens of her own experience.
When Monica Hesse traveled to Accomack County, Virginia in 2013, she already knew who was on trial for the massive fire-setting spree there: a couple, Charlie Smith and Tonya Bundick. But the Bonnie and Clyde of arson, so to speak, were more than they initially appeared — as Hesse soon discovered through her research. American Fire is the enthralling account of what she found: a "whydunnit" of complex, psychosexual motivations that will astound even the most jaded readers.
Fans of The Crown, you'll recognize the inciting incident of this thrillingly intertwined narrative. The year is 1952, and the "Great Smog" has settled over London. This was a disastrous pollution event that killed thousands, diseased many more, and provided convenient cover for a serial killer, who lured women to his flat under the fog. Over the course of this book, Dawsom deftly demonstrates how "the Beast of Rillington Place" operated, and how both killers — human and airborne — came to permanently impact English law.
One of our personal favorites on this list (and others), I'll Be Gone in the Dark is a doggedly researched, masterfully crafted work from an author whose work will long outlive her. It describes the various cases of the Visalia Ransacker, the East Area Rapist, and the Original Night Stalker, all of whom McNamara speculates to be one person: the Golden State Killer. Packed to the brim with information, and made even more impressive by the fact that these events occurred 30+ years ago, this book will no doubt be remembered as one of the great true crime feats of the 21st century — and for spurring the arrest of Joseph James DeAngelo, now widely believed to be the Golden State Killer.
36. Bad Blood by John Carreyrou
Bad Blood chronicles one of the most bizarre criminal cases in recent memory, even in the strange land of Silicon Valley. We're talking, of course, about Elizabeth Holmes and Theranos: a company hawking super-advanced blood-testing technology, which turned out to be predicated on fraud and lies. Carreyrou, reporting for the Wall Street Journal, was actually the first to expose the technology's failure and Holmes' willful deception of investors and the public. This aptly titled treatment expands on his earlier articles, providing a fascinating glimpse into the Fyre Festival-esque fiasco that was Theranos.
37. Say Nothing by Patrick Radden Keefe
In this book, Keefe recalls a brutal conflict that many have too easily forgotten: the Troubles in Northern Ireland. This deep-rooted political and nationalist conflict came to a head in 1972, when nearly 500 Irish citizens lost their lives — including a single mother of 10, who was abducted and killed by the Irish Republican Army. Against the grim backdrop of these events, Say Nothing homes in on the fates of IRA terrorists Dolours and Marian Price, as well as the devastating combat that took place between other IRA and British Army individuals.
38. The Five by Hallie Rubenhold
There are endless true crime books about Jack the Ripper that speculate on his identity. The Five takes a gratifying new approach by focusing instead on the "canonical five" women that he killed: Polly, Annie, Elizabeth, Catherine, and Mary-Jane. Rubenhold depicts their lives with great nuance and care, built on a foundation of diligent research and hard-won facts. Most importantly, this book forces the reader to confront their misconceptions and biases about the Ripper and his victims, and sets a new precedent for whose stories ought to be told.
Now for a dose of weird and wacky. The Feather Thief recounts the case of Edwin Rist, a 20-year-old flautist who robbed the British Museum of Natural History in 2009. But his mark wasn't precious heirlooms, at least not of the conventional sort — Rist was after the rare bird skins housed in the museum, and ended up getting away with hundreds of specimens. Still, what did he want with Victorian-era feathers? Johnson's book intriguingly tackles this highly unusual heist — and, in tandem, the study of ornithology and the secret world of "fly-tying."
Nearing the end of our list, we're coming slightly full-circle with Furious Hours. This book follows Harper Lee, who helped Truman Capote research In Cold Blood, in her attempts to complete her own groundbreaking true crime book. The case in question was actually quite interesting: a rural preacher who killed five of his family members, a vigilante relative who then killed him, and the same lawyer who briefly represented them both. However, classic literature enthusiasts will be much more engrossed by the story of Lee's writing, her relationship with Capote, and her struggles to live up to expectations after the explosion of To Kill a Mockingbird.
We've covered the most prolific and the most unusual serial killers, but what about the most meticulous? According to Maureen Callahan, that title goes to Israel Keyes. His modus operandi was to bury "kill kits" around the United States, and use them on victims at seemingly random times… over the course of 14 years. In other words, this was no typical messy criminal; this was a calculating monster who killed for fun and knew exactly how to elude the authorities. American Predator is a singular rendition of this cold-blooded killer, brilliantly scripted by Callahan and impossible to forget. 
Stieg Larsson is world-renowned for his Millennium trilogy starring Lisbeth Salander. Yet the late author was working on something even bigger before his untimely death: a no-holds-barred investigation of the Swedish prime minister's assassination in 1986. Years later, journalist Jan Stocklassa took up his mantle and delved back into the case, which Larsson had linked to the far-right activities. Stocklassa's exciting discoveries in this new book prove him just as worthy a detective as Larsson, and definitely one to watch as he continues putting the pieces together.
And for our final true crime entry, we have the much-anticipated Catch and Kill — Ronan Farrow's tell-all account of his years chasing Harvey Weinstein, and the arduous process of publishing the movement-sparking article about him. (The book's title refers to the media practice of buying a story just to bury it, which Weinstein employed to prevent NBC coverage of his crimes.) In any case, Farrow — no stranger to morally gray celebrities — here goes after Weinstein with the tenacity of a bloodhound, uncovering even more shocking revelations and turning Catch and Kill into a veritable real-life thriller. Yet he still manages to keep the main focus on what really matters: the women involved, their stories, and the justice they deserve.
***
Can't get enough of suspicious figures and spectacular solves? Check out this list of our 50 best suspense books, or if you're in the mood for something milder, our essential guide to cozy mysteries.