Blog – Posted on Tuesday, Apr 16
10 Fantastic World War II Books by Female Authors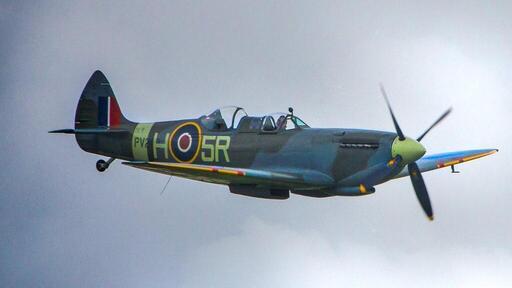 This post was contributed by Reedsy Discover reviewer Lou Hurrell.
Come September it will be 80 years since World War II began. Most people will remember learning about the war from poring over history books in class, listening to elderly family members, or by watching the countless repeats of war films on the telly. At times it can feel as though we know all there is to know about World War II, which lasted from 1939 to 1945. But here we have ten book recommendations that provide new, exciting perspectives — all written by women! From short stories to novels, romance to espionage, in the heart of battle or at home; all are fantastic reads, showcasing ordinary people living in extraordinary times.
1. Transcription by Kate Atkinson
Juliet Armstrong reflects on her life in 1940, when she was recruited by MI5 to spy on Fascist sympathizers in the heart of London. As well as transcribing conversations that had happened next door, Juliet goes out into the field, posing as orphaned socialite Iris Carter-Jenkins. Fast forward to 1950 and Juliet is working as a radio producer at the BBC, when a chance encounter threatens to expose her past. Intriguing, suspenseful, and witty, Atkinson's novel is a towering achievement. Juliet lingers in the mind long after the novel is finished; brave, kind yet socially awkward, she leaps off the page. Atkinson has captured her wonderfully, along with fellow MI5 agents Peregrine Gibbons, Godfrey Toby, and Oliver Alleyne, making it hard to put Transcription down. One for lovers of character-driven stories or spy dramas.
2. Suite Française by Irène Némirovsky
Though sadly unfinished — Némirovsky was arrested and sent to Auschwitz in 1942 — Suite Française is still a remarkable piece of work. Originally planned as five novels, only the first two were completed. While the first focuses on a handful of characters, the main plot in the second centres on Lucile Angellier, who lives in the French town of Bussy with her mother-in-law. German commander Bruno von Falk is billeted to their house as it is considered one of the grandest in the area and Lucile finds herself falling for Bruno as the other residents come to terms with the German Occupation. Némirovsky's imagery is beautiful, capturing both the horror of war and the hope of this blossoming love affair. As the plot of the third novel only exists as an outline, we may never be able to see the conclusion of Lucile's story. But what we do have is a startling, heartfelt portrait of life in wartime France.
Looking for something new to read?
Trust real people, not robots, to give you book recommendations.
Or sign up with an email address
3. The Night Watch by Sarah Waters
A novel which moves backwards in time, The Night Watch uses this gimmick effectively to explore relationships in war torn London. The story follows Kay, Viv, Helen, Julia, and Duncan as they struggle to survive the war, and as the plot moves from 1947 to 1941, we see how their lives intertwine. Waters excels at historical fiction and The Night Watch is a fantastic example of this. The characters are complex and layered, making you become really engaged in these people and their hopes and dreams. The characterisation and Waters' exquisite writing makes the hefty novel fly by; with the chaos of wartime brilliantly reflecting the chaos in the characters' romantic lives. Heart-breaking and powerful, this is a must for fans of romantic dramas or Waters' other work.           
4. Goodnight Mr Tom by Michelle Magorian
Willie Beech is evacuated from London to the countryside, and he goes to stay at the home of Tom Oakley in the village of Little Weirwold. Oakley is a curmudgeonly widower who has few friends and it is clear the two are total opposites. But slowly a friendship starts to blossom, and Willie begins to thrive in his new home. That is, until he learns his mother is sick and he must return to London… Poignant yet life-affirming, Goodnight Mr Tom explores the world of evacuees, highlighting the strange circumstances the children had to confront. Although dealing with difficult topics, Magorian's novel is still beautifully written, with kindness and wit on every page. One for children and adults alike.
5. The Granville Sisters by Una-Mary Parker
The first in a trilogy, Una-Mary Parker's novel follows the eponymous siblings from their privileged lives in the 1930s to the outbreak of the war and the consequences that follow. Older sisters Rosie and Juliet are bitter love rivals, Louise falls in love with an evacuee and becomes pregnant out of wedlock, and Amanda, much to the family's dismay, is left-wing. That only leaves Charlotte to whom their mother can pin her hopes on. But can she fulfil those expectations? Despite the large cast of characters, the reader gets to know the sisters intimately through Parker's excellent writing, which full of incredible imagery. There is never a dull moment in this book and if you like your reads full of scandal or just a good romp, then The Granville Sisters may be for you.
6. A Boy in Winter by Rachel Seiffert
Longlisted for the Women's Prize for Fiction in 2018, A Boy in Winter is a short but powerful novel set over three days during the German Occupation of Ukraine in 1941. We follow Yankel, a Jewish boy protecting his younger brother at all costs and Yasia, a teenager who finds herself caught up in the action. There is also German road engineer Otto Pohl, who has severe misgivings about the regime he works for. Seiffert's imagery is wonderfully atmospheric; the constant references to the fog and darkness feel almost suffocating to read, perfectly capturing the mood of the small town. The multi-character perspective is also used to great effect as it shows the reader different social and political viewpoints of the period. A quiet, unassuming reads that packs a mighty punch.
7. Good Evening, Mrs Craven: Wartime Stories by Mollie Panter-Donnes
One for all the short story fans out there, this collection brings together some of Panter-Donnes' stories, written between 1939 and 1944. They are slices of life; revealing aspects of English domestic lives during wartime. Panter-Donnes covers a wide range of topics, such as evacuation, social revolution, and sewing parties. She also blends humour and sadness effortlessly, making the stories an absolute joy to read. Some characters appear in more than one story, and it is interesting to see how they all tie together. If you are interested in civilian life during WWII, then definitely check this collection out.
8. The Zookeeper's Wife by Diane Ackerman
Set in Warsaw, Poland, The Zookeeper's Wife follows Antonina Zabinski and her husband Jan. Luftwaffe bombers have devastated their zoo, and most of the animals that survived have been taken to Berlin. After converting their near empty zoo into a farm, the couple decide to become active in the underground resistance, secretly sheltering Jews and hiding ammunition. Loosely based on Antonina's diary, The Zookeeper's Wife is a love letter to bravery and compassion. Antonina is such a fascinating character it is hard to put the book down. Her relationship with Jan is beautifully drawn, revealing the love between them but also the strain the hardships of warfare can cause. It is a very nuanced portrait of a marriage set against this horrifying backdrop. Fans of the film starring Jessica Chastain and Daniel Brühl will also enjoy the novel.
9. The Nightingale by Kristin Hannah
A massive bestseller, pretty much everyone has heard of The Nightingale. Estranged sisters Vianne and Isabelle live in France at the start of WWII, but the similarities end there. Vianne is a married schoolteacher whose husband Antoine is drafted into the army, leaving her to care for their daughter alone. Isabelle, however, joins the French Resistance and begins distributing anti-Nazi propaganda. The book follows the sisters throughout the war as they struggle to stay alive. A definite page-turner, The Nightingale is a gripping story of survival. Hannah's writing style is very evocative, bringing these characters to life with ease. The reader becomes so invested in Vianne and Isabelle that the final chapters are truly heart-breaking. Best to have some tissues handy as you read!
10. The Guernsey Literary and Potato Peel Pie Society by Mary Ann Schaffer and Annie Barrows
Although not technically set during World War II, the novel certainly deals with events during the war. Writer Juliet Ashton is struggling to come up with an idea for her next book when a letter from the Channel Islands arrives on her doorstep. Farmer Dawsey Adams has discovered her address in a second-hand book and wrote to her to see if she can send more novels and biographies. The two begin a correspondence and when Dawsey mentions the eponymous Society, Juliet is soon bombarded with letters from other members, slowly revealing life under Nazi-occupied Guernsey. Written by aunt and niece team Schaffer and Barrows, this is a very sweet, light-hearted novel with plenty of laughs. The characters are very charming and likeable, revealing an amazing strength even in dark times. A lovely, cosy read to warm even the coldest of hearts.    
Lou Hurrell has been writing about books since 2017, when she started her blog Random Book Reviews Web. She joined Reedsy Discovery as a book reviewer earlier this year. When she is not busy reading or writing, she can be found in her local cinema, theatre, or in her kitchen attempting to bake.