Blog – Posted on Monday, Aug 26
The 45 Best Fantasy Audiobooks
Reading a fantasy novel can transport you to a world of wonder and danger, as different from mundane reality as a dragon from a mouse. And listening to one? It feels like being guided through that otherworldly landscape by a friend in the know, someone who can find their way around all those haunted graveyards and enchanted towers.
If you feel like taking a tour of someplace truly magical, we've assembled the perfect itinerary: a guide to 45 of the best fantasy audiobooks. Whether you're into courtly intrigues or street-side capers, whether you'd like to follow heroic hobbits or cowardly dragons, there's sure to be something here to delight your imagination — or break your heart. 
1. Amberlough by Lara Elena Donnelly, narrated by Mary Robinette Kowal
Lara Elena Donnelly's sparkling, sexy historical fantasy swaps out the conventional, quasi-medieval setting for a magical take on 1920s Berlin: a world of silken glamour, queer romance, and political intrigue. Instead of knights and wizards, debut author Lara Elena Donnelly populates her sparkling, dieselpunk-ish setting with dancers, smugglers, and spies — all of whom must scramble in the face of a looming fascist revolution.
Fantasy author and veteran puppeteer Mary Robinette Kowal imbues her narration with both a sensitivity for storytelling and a theatrical aplomb. In her capable hands — or rather, voice — Amberlough City's louche delights come to life. 
2. The Axe and the Throne by M. D. Ireman, narrated by Matt Cowlrick
A dark addition to the sword and sworcery fantasy subgenre, The Axe and the Throne follows Tallos, a man on (what he admits to be) a doomed voyage north.
With the eldest sons of his lifelong friend kidnapped by the barbaric Northman, Tallos feels like he has to do something. So he goes after them, even knowing, with a pit in his stomach, that the boys will already be dead if he finds them. This isn't a rescue mission, Tallos just wants to bring their bodies home to their parents.
Don't let narrator Matt Cowlrick's status as a My Little Ponies alum fool you — this book has its share of dark plot twists. Because what Tallos ends up finding is even worse than he expected.
3. The BFG by Roald Dahl, narrated by David Walliams
All-time great author Roald Dahl may have passed away 29 years ago, but his books will forever be a luminous staple of children's literature. The BFG is one of his more adventuresome triumphs, as a girl named Sophie is kidnapped by the Big Friendly Giant and brought to a mysterious, foreign land. Goodbye, cucumbers, gelato, and Corgis — and hello, snozzcumbers, frobscottles, Bloodbottlers!
If you're looking to go on a wonderfully outlandish and charming rollercoaster, this is the audiobook for you. Trust us: Williams' magisterial narration alone is worth the listen. Indeed, he spits out Dahl's invented words with such splendiferous and suspicious facility ("argy," "biffsquiggled," "bundongle," "catesterous," "crodsquinkled") that you have to wonder if he isn't related to the BFG himself. 
4. The Beast's Heart by Leife Shallcross, by Jim Dale
Leife Shallcross is the kind of moniker that belongs in a fantasy novel — but being splashed on the cover of one isn't bad either. By penning The Beast's Heart, the debut novelist lives up to her fantastical name. A lush, stylish retelling of a tale as old as time, it approaches Beauty and the Beast from the Beast's perspective, laid out in a brooding, Byronic style worthy of a cursed prince in 17th-century France.
Jim Dale's performance is a tour de force — his connection to Shallcross's first-person text both palpable and heartrending. But as he takes us through the Beast's harrowing emotional journey — from despair to resignation to hope — he's careful to give us a glimpse into the beautiful Ysabeau's interiority as well. Still, it's the narrator's self-awareness, as he tracks his own teetering between the states of man and beast, that make this audiobook impossible to ignore.
The first installment in a planned trilogy, Black Leopard, Red Wolf has been billed as an African Game of Thrones. Turns out, Marlon James was joking when he pitched it that way. But the Booker Prize winner's foray into fantasy really does evoke GRRM in its ambition, sweep, and pitch-dark tone.
One of 2019's best books, Black Leopard, Red Wolf starts off with a missing child, whom the mercenary called Tracker is dispatched to sniff out. As he makes his way across a hostile landscape inhabited by vampires and demons, Tracker joins up with a makeshift crew of fellow hunters, all looking for the same lost boy. Dense, heady, and shadowed by the surreal, Black Leopard, Red Wolf stays with you long after you turn the last page — or hear the silence following the final word. Dion Graham, who interprets dialogue with remarkable sensitivity in his low-rumbling baritone, keeps you spellbound for all 24 hours of the audiobook.
6. Blood Song by Anthony Ryan, narrated by Steven Brand
Anthony Ryan's stylish epic fantasy debut cemented his place as a star of the genre. It's snagged rave reviews from the likes of Buzzfeed and Publisher's Weekly for its streamlined pace and finely drawn characters — all the more striking because it was originally self-published. 
Blood Song performed so well, Penguin Random House couldn't help but scoop it up as part of a three-book deal. The story centers on Vaelin Al Sorna, who wasn't even a teenager when his father left him with the Brothers of the Sixth Order, to be molded into a deadly, celibate Warrior of the Faith. Grieving for his prematurely ended childhood and resentful for his abandonment, he all but stumbles into a destiny that will reshape the realm. Steven Brand's velvety voice reveals the grace of Ryan's style.
7. The Broken Earth by N.K. Jemisin, narrated by Robin Miles
Sometimes a once-in-a-generation voice comes along in the fantasy genre that you just can't afford to miss. This time, it's N.K. Jemisin. Her The Broken Earth trilogy swept the awards circuit, each installment winning the Hugo Award for Best Novel for three consecutive years — an unprecedented feat that's unlikely to be matched for many more years. What's more, it deserves all of its accolades — and more. 
The Broken Earth's deeply original premise alone makes it a standout: on a supercontinent called the Stillness, the land is devastated every few centuries by monstrous earthquakes and volcanic eruptions. This is the world in which Essun must find and save her daughter, who's been stolen away by her husband. Add on the astounding worldbuilding, lush prose, and a narration read by Robin Miles, and you have a future classic in your hands.   
8. The Broken Empire by Mark Lawrence, narrated by James Clamp
You've discovered you enjoy reading grimdark fiction. Maybe it's time to step into the world of listening to it? The Broken Empire trilogy by Mark Lawrence is a great place to start. The first book in the series, Prince of Thorns, follows nine year-old Prince Jorg, who has been forced to watch the slaughter of his mother and brother during an attack at the palace. (See? Grim. And dark.) Jorg flees and spends his adolescence in the company of a bloodthirsty gang. They teach him their violent ways while he bides his time, waiting for the right moment to return to the castle and take back what's his.
9. The Dark Tower by Stephen King narrated by George Guidall and Frank Muller
Made up of eight books, Stephen King's The Dark Tower series is one of those deliciously long listens that will keep you occupied on an otherwise endless road trip, in much the same vein as Lord of the Rings and A Song of Ice and Fire. However, unlike the aforementioned epics, The Dark Tower offers a scintillating combination of genres that's unlikely to tire you: King dips a toe into horror, science fiction, dark fantasy, and Arthurian legend. His myth-making story concerns of Roland of Gilead, the Last Gunslinger, who must travel to the Dark Tower against all odds. George Guidall is, as always, pitch-perfect in this narration, bringing King's gritty supernatural world to nail-biting life. 
10. Discworld by Terry Pratchett, narrated by Nigel Planer
A Pseudo-European Medieval setting? Nope. A wild forest populated by sentient trees? No. A castle under siege? Wrong. While it might be an epic fantasy, Terry Pratchett's Discworld series strays far from the setting-related tropes of the genre. Instead, this fantasy takes place in the magical, eponymous planet Discworld, which stands on the backs of four massive elephants, who in turn balance on the back of the Great A'Tuin, a giant turtle swimming slowly through the interstellar gulf. Naturally.
The series starts with The Colour of Magic, a 7-hour listen that tells the story of a group of expeditioners intent on exploring Discworld. And if you're at all worried the first novel is just an extended exposition, don't fret. You're in for encounters beyond your expectations — think dragons who only exist if you believe in them (Tinkerbell flashbacks, anyone?) — and insight into what lies beyond Discworld's edge. 
11. The Dresden Files by Jim Butcher, narrated by James Marsters
One of the all-stars of urban fantasy, The Dresden Files by Jim Butcher is a rollicking ride through the underbelly of Chicago — one that's populated with vampires, werewolves, talking skulls, and pretty much every supernatural creature you can imagine. Our hero is Harry Blackstone Copperfield Dresden, a wizard who works for the Chicago PD — and things are about to get interesting for him when a series of horrifying murders are committed across the city. 
James Marsters delivers a masterful (or marsterful, if you will) performance here, elevating this gritty noir fantasy into an addictively listenable experience. The ongoing mystery in the book might be about to pull Harry Dresden in for a ride — but it's far from a mystery why this series still remains many fantasy fans' favorite audiobooks, more than a decade after its release.
12. The Farseer Trilogy by Robin Hobb, narrated by Paul Boehmer
"Filled with adventure and bloodshed, pageantry and piracy, mystery and menace, Assassin's Apprentice is the story of a royal house and the young man who is destined to chart its course through tempests of change." That's what the Amazon listing says for the first book in Robin Hobb's trilogy. Intrigued? Well, let us tell you more.
The young man mentioned is Fitz, the bastard son of Prince Chivalry. He's spent his childhood raised by the Prince's gruff stableman and tutored by the sinister King Shrewd (noticing a pattern in the names here?), who seeks to use the magic in Fitz' blood for his own political purposes. Fitz is being pulled in multiple directions, between his powers, his heritage, and those who seek to influence him. But he'll have to decide on a course of action soon. It's become impossible to ignore the fact that he's not only a threat to the throne, but also the potential key to survival for the kingdom's survival. 
13. The First Law by Joe Abercrombie, narrated by Steven Pacey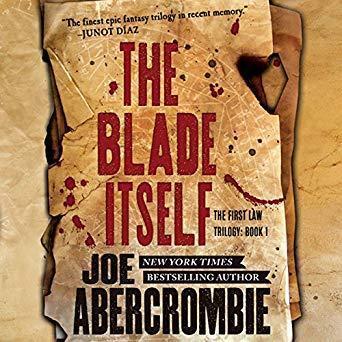 Many might call Joe Abercrombie's The First Law a pretender to Game of Thrones', well, throne, but it's anything but: twisty, grimdark, and garnished with a touch of dry humor, The First Law stuns with a lushly evocative world and its own fully-realized cast of complex anti-heroes. Chief among the ruffians is a band of four seemingly unconnected individuals: Jezal dan Luthar, a self-obsessed officer; Logan, a broken warrior; Inspector Glokta, a tortured torturer; and Bayaz, a mage with mysterious intentions.
When a political standoff begins to deteriorate and war starts to sweep over the continent, each of these four characters must reckon with each other — and themselves. Rendering it all with nimble dexterity is Steven Pacey, who adds a delicious layer of characterization and emotional resonance in an iconic performance that will surely go down in the books itself.
14. The Gentleman Bastards by Scott Lynch, narrated by Michael Page
Ever thought that Ocean's Eleven was great, but that it would be even better if it took place in a magical kingdom instead of Sin City? Then you're looking in the right place: the Gentleman Bastards series, which kicks off with The Lies of Locke Lamora, follows a band of dashing small-time con artists led by one imperfect, elegant thief who's improbably escaped every authority thus far: Locke Lamora. But things begin to catch up with Locke and his dastardly gang when the Gray King comes to Camorr, and Locke realizes that he might have met his match in cunning.
Scott Lynch weaves together a hodgepodge of characters, philosophies, cultures, languages, and gods to produce a funny, well-crafted, and smart fantasy thriller. And if that sounds hard for an audiobook to live up to, don't fear: Michael Page delivers the witty banter and twisting plots with effortless ease, matching Lynch's keen writing with his own incredible range of interpretation.
Hypochondriacs beware, in The Girl With All the Gifts, M. R. Carey asks what would happen if the parasitic fungus cordyceps, a real biological organism known for hijacking the nervous system of ants, found its way over to humans. The answer is not pretty. But it might just be the next audiobook to feast your ears on.
The story follows six year-old Melanie, a genius who is strapped into a wheelchair by a gun-toting sergeant and wheeled from class to class. In fact, all the children at her school are escorted through their schooldays this way. Why? Well… we'll leave that plot twist for the readers hardy enough to dip their toes into this labyrinth of plot twists. All we'll say is that whenever Melanie tells her favourite teacher about all her aspirations for the future, her teacher looks inexplicably sad….
16. The Goblin Emperor by Katherine Addison, narrated by Kyle McCarley
This elegant, stylistically understated book falls into the genteel subgenre called fantasy of manners — think elves and goblins acting out Jane Austen. Add subtle social commentary, a steampunk aesthetic, and a warmhearted hero you never stop rooting for, and you'll get The Goblin Emperor. No wonder it won the Locus Award and snagged nominations for the Nebula, Hugo, and World Fantasy Awards too. 
Maia, the youngest of Elfland's princes, was never supposed to become emperor. His birth order, and his half-goblin heritage, all seemed to point him to a future of cozy political obscurity — he wasn't even raised at court. But then an airship goes down with his father and half-brothers onboard. And now Maia has no choice but to wear a crown that wasn't meant for him, and rule a nobility who view him with contempt and fear. Kyle McCarley's smooth, posh narration captures both the stifling formality of court life and Maia's journey from innocence to wisdom. 
17. The Golem and the Jinni by Helene Wecker, narrated by George Guidall
Meet Chava. She is a golem from Jewish mythology — a beautiful, intelligent clay creature brought to life by the last breath of her creator. Then there's Ahmad, a fiery jinni of Arabian legend, who is also concealing his true identity in a tinsmith's shop, just a couple of streets away from Chava in 19th-century New York. 
Of course, the two will inevitably collide in this intricately crafted story by Helene Wecker. But the book, which has all of the trappings of a fairy tale, is really an elegant, moving encapsulation of the immigrant experience. Unexpectedly original and wildly visionary, the only thing that could make this story even better is the sensitive and heartfelt narration that all-time great George Guidall provides in this audiobook.
18. Good Omens by Neil Gaiman and Terry Pratchett, narrated by Martin Jarvis
In Good Omens, two of British fantasy's brightest stars tag-team Armageddon with angelic good nature and demonic wit. Together, Neil Gaiman and Terry Pratchett have turned out one of the genre's all-time greatest hits.
Good Omens has also been a resilient source of shipping furor: for almost 30 years now, enraptured fanfic writers have elaborated on the book's hilarious and touching central relationship: the millennia-long friendship between the fussy angel Aziraphale and the glamorous demon Crowley.  Martin Jarvis's wonderfully textured narration pours life into the angel and the demon both — to say nothing of the Satanic nuns, fraudulent fortune tellers, and brainy occultists they get mixed up with in their rip-roaring attempts to avert the apocalypse. 
19. The Graveyard Book by Neil Gaiman, narrated by Neil Gaiman
Neil Gaiman, aka one of the fantasy's greatest treasures, wrote The Graveyard Book in 2008, on the back of hits like Coraline and Anansi Boys. The Graveyard Book successfully manages to elevate his stratospheric stock even higher. The story is about Nobody Owens (nicknamed Bod), a boy raised in a graveyard by a ghost. Unsurprisingly, it fuses breathless adventure, macabre humor, and terrifying horror with Gaiman's usual deftness. 
Matching the author Neil Gaiman word for word is the narrator — Neil Gaiman. Needless to say, it's something special to listen to a writer read his own work — not least when it's someone who sparkles like Gaiman. 
20. Harry Potter by JK Rowling, narrated by Jim Dale
Any fantastical list would be incomplete without the perennial favorite of adults and children alike: Harry Potter! You're probably already familiar with this magical delight of a franchise, but let's go through a quick rundown of the series, for old time's sake. Harry Potter is an ordinary boy of 11, except for one tiny detail: he defeated the Dark Lord of the wizarding world when he was only a baby. As wild as that is, that's not the only revelation lying in store for Harry when he learns by owl post that he's a wizard — and is about to be whisked off to Hogwarts School of Witchcraft and Wizardry for seven years' worth of adventure, intrigue, danger, and lasting friendships. 
The Harry Potter audiobooks serve up their own feast of the imagination, re-building the wonder with which you first read the books and re-immersing you into the phenomenon that is the wizarding world. That said, there are two definitive narrations of Harry Potter and it's a bit of an ongoing debate over who offers the better one: Jim Dale or Steven Fry. We (marginally) prefer Jim Dale's version ourselves, but if you'd like to try both out, here's Steven Fry's audiobook.
21. His Dark Materials by Philip Pullman, narrated by Philip Pullman and Full Cast
When authors read their own books, the results can be a little hit-or-miss — not every pen-and-paper storyteller has the acting chops to bring their own work to life. Fortunately, Philip Pullman proves to be as skilled a narrator as he is a worldbuilder. Backed by a first-rate cast, he ushers listeners into the
wondrous multiverse of His Dark Materials, where angels are real but God is not, and where magic blades can open passages between wholly different worlds.
All three installments of the trilogy won Earphones Awards — that's almost 32 hours' worth of enchantment for your listening pleasure. The series centers on Lyra Belacqua, a tough-minded, towheaded orphan with a gift for persuasion. She lives in a world very much like ours, with just a few off-kilter details: Texas remains an independent republic, thousand-year-old witches roam the north, and every human being's soul takes external form as an animal-like daemon.
This debut novel was a decade in the making: Susanna Clarke had to write it while tending a full-time job as a cookbook editor. But, as they say, all good things take time: the result is a 700-page masterpiece, touted by Neil Gaiman as the "finest work of English fantasy written in the past seventy years.
A stupendously creative alternate history, Jonathan Strange and Mr. Norrell explores the tantalizing prospect of an England that used to hold magic in its lands. Now it's 1806 in Regency England and magicians have become a mere footnote in the history books — until the emergence of one crabby Mr. Norrell, one charming Jonathan Strange, and one mysterious figure known only as the Raven King. It's an epic in every sense of the term, word count included — but rest assured that Simon Prebble's masterful narration will make the 32 hours pass by in the blink of an eye. 
In a rural backwater within the great continent of Temerant, an old innkeeper chats with the foremost historian of the age. When the famous Chronicler is saved from a spider-like demon by the innkeeper Kote, he quickly sees through the old man's disguise. Though he has hidden himself here in the countryside, there's no mistaking Kote for who he really is: the legendary Kvothe, a swordsman, magician, musician, and alleged king-killer. And so the two men sit together for three days, the one telling his story, the other writing it down. And Patrick Rothfuss records their conversation, making every day a book.
Nick Podehl approaches Rothfuss's thoughtful, gripping story with remarkable versatility. His clear, precise voice renders every syllable crisply while letting Kvothe's evolving personality shine through: we feel for him throughout his journey from child prodigy to world-weary hero-in-hiding.
24. Legends of the First Empire by Michael J. Sullivan, narrated by Tim Gerard Reynolds
What sets the gods apart from humans? In Michael J Sullivan's historical fantasy series, the answer is threefold: the gods are masters of magic, indomitable in war, and, above all, immortal. Or so it seemed, until a god is killed by a human blade, throwing off the balance of power and sinking the Age of Myth (which happens to be the title of the first installment) into turmoil.
Now the rebellion has begun, humans are at risk of annihilation, and a battle for the ages is underway in this epic trilogy read narrated by bestselling audiobook narrator Tim Gerard Reynolds.
25. The Lord of the Rings by J. R. R. Tolkien, narrated by Rob Inglis
It's not everyday that a movie adaptation is almost as beloved as the book series its based on, but such is the case with The Lord of the Rings. Can the audiobook elevate this pioneer of the Hero's Journey into triple-threat status? You'll have to listen to find out.
Fun fact about the audiobook: Rob Inglis says that the Lord of the Rings audiobooks were recorded in an "intense" six-week period. Take a moment to simply flip through the pages of this trilogy, and we'll say "intense" is an understatement!
26. The Magicians by Lev Grossman, narrated by Mark Bramhall
Lev Grossman's thoughtful spin on a couple of hoary genre tropes — the Hogwartsian school for magic and the Narnian portal to fantasyland — pulls no emotional punches. The result? A tale of magical adventure that deconstructs the very ideas of magic and adventure, in devastating psychological detail.
Peopled by canny, college-aged protagonists, The Magicians never shies away from the emotional turmoil attending the transition out of childhood, and it infuses its depiction of these growing pains with just the right touch of enchantment. Accordingly, it shows us a Hogwarts darkened by mental health problems, and a Narnia stalked by monsters far scarier than the White Witch. Mark Bramhall's dignified read, with its clear enunciation and deliberate pacing, shows Grossman's prose in its best light, drawing attention to the care he lavished on every sentence. No wonder it snagged him an Earphones Award.
27. Mistborn by Brandon Sanderson, narrated by Michael Kramer
We're used to entering fantasy worlds where the peace is threatened by a Dark Lord, and then ultimately restored by a heroic Chosen One. But what if the Chosen One fails, and the Dark Lord is in charge? That's is the world we find in Brandon Sanderson's action-packed Mistborn trilogy.
But don't worry, as award-winning audiobook narrator Michael Kramer will assures you, not all hope is lost in this ashen and misty world: a troublemaker and his young apprentice are entering the scene, and they're bent on bringing their world back to life.
Turns out, dragons get bullied too. As the runt of the powerful Heartstriker Clan, Julius tends to get picked on by his more menacing relatives. His solution is to lay low, keeping well of his predatorial cousins' ways. But to his mother, Bethesda, this wallflower-ish attitude is less life-hack, more character flaw.
The imposing Heartstriker matriarch — a real tiger mom, if you can call a dragon that — wants her youngest son to toughen up and stop being such a nice dragon. So she traps him in human form and sends him to fend for himself in the Detroit Free Zone, a rough-and-tumble metropolis in magical Michigan. He's got one month to prove himself worthy of his true draconian shape — or make peace with living the rest of his life sans scales. Rachel Aaron's delightful urban fantasy never takes itself too seriously, interweaving threads of dystopian fantasy and science fiction into her dragon-centered plot. And as far as narrators go, Vikas Adams shines, tackling the fiery Bethesda and the eternally chill Julius with equal aplomb.
29. Outlander by Diana Gabaldon, narrated by Davina Porter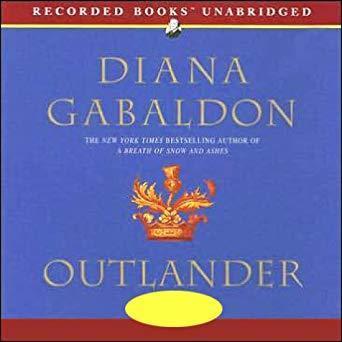 Outlander is many things. It's a fantasy romance and a historical romance. It's an ongoing series with 9 books so far. It not only took the literary world by storm (flying its way up to the top of the New York Times bestseller list), it's also taken the world of television by storm with an award-winning series. It's even given the town of Inverness a boom of tourism. Finally, it's also an audiobook narrated by Davina Porter — a master of accents and dialects who's narrated such classics as Madame Bovary.
In the first installment of Diana Gabaldon's series, we might series heroine Claire Randall, who has just returned from World War II where she served as a combat nurse. She and her husband are enjoying a second honeymoon when Claire finds herself transported to 1743 Scotland — all because she happened to touch an ancient stone ruin. Back in time, she ends up meeting James Fraser, a gallant highlander. Will Claire ever be able to find her way back to her own time? And if she does find a way to return back to her home and her husband… will she want to?
30. Phoenix Unbound by Grace Daven, narrated by Katherine McEwan
Grace Draven's steamy fantasy romance starts with a premise right out of The Hunger Games. Each year, the Empire demands a human tithe from every village under its dominion: a young woman they'll burn alive to feed the capital's charnel-house taste for entertainment. But one village has learned to game the system — they've sent the same woman five times.
Gilene, a fire mage, protects herself with her powers on the pyre, leaving her friends and neighbors to live their lives in peace. But this year, something's gone wrong: the gladiator Azarion has figured out her game. Now he wants her help escaping from the slaveowners who've trapped him into a life of bloodsport. And if Gilene refuses, she'll be put to death for real. Katherine McEwan's Earphones Award-winning narration keeps their enemies-to-lovers tale simmering along — and brings Daven's spellbinding story to a magical conclusion. 
31. The Poppy War by R.F. Kuang, narrated by Emily Woo Zeller
This accomplished offering from R.F. Kuang amazes on multiple levels. It's absolutely majestic for a debut novel, and it's also so dark that it could become the founding text of a grimdarker fantasy subgenre.
The Poppy War traces the story of Rin, a girl from a poverty-ridden family who defies all expectations to get accepted into the elite military school of Sinegard. But this is no ordinary coming-of-age tale: Rin's bleak struggle at Sinegard will drive the "military" in "military fantasy" home in grisly fashion. Did we mention that it's vividly set in a world inspired by post-Opium War China, and that Emily Woo Zeller's heart-pounding delivery will literally keep you at the edge of your seat? In short: if you're a grimdark fan, you won't regret picking up The Poppy War up.
32. Raven Cycle by Maggie Stiefvater, narrated by Will Patton
This series has enchanted adults and young adults like for years now, and it's easy to see why. Maggie Stiefvater upends tropes and your wildest expectations as she creates a beautifully written story that follows a girl named Blue, who is drawn inexorably into the troubled world of the Raven Boys: Gansey, Adam, Noah, and Ronan. Gansey is on a quest to find the sleeping Welsh King — which, needless to say, is easier said than done.
The Raven Boys, the first installment of the Raven Cycle series, is one of those rare books that has a little bit of everything for everyone. Are you a supernatural fan? There's plenty of ghosts to go around. History nerd? This book comes with Latin. Mystery buff? The plot's going to keep you hooked. And if you're an audiobook lover, even better: Will Patton's assured, pitch-perfect narration — complete with a touch of Southern charm — captures all of the poetic magic of Stiefvater's prose, and more.
33. The Raven Tower by Ann Leckie, narrated by Adjoa Andoh
Known for her rich, sprawling space operas, Ann Leckie proves herself to be a master fantasist with this foray into the realm of gods and magic. Unlike the sword-slashing brand of epic fantasy, The Raven Tower is a novel of bureaucracy, populated by shrewd thinkers who move cautiously through the tangled snarl of their political world, where the gods are as vulnerable, and as imperfect, as the men who serve them.
The kingdom of Iraden has long flourished under the protection of a deity called the Raven, who presides over a nation of worshippers from the Raven Tower. But now, the god's powers seem to be waning — invaders mass at the borders, flouting patron deities of their own. What's more,  the Raven's Lease — the human chosen to sacrifice himself for the kingdom, in exchange for the god's protection — is suddenly nowhere to be found. Finally the Lease's aide, Eolo, steps out of the shadows to find him. Leckie tells the story in the second person, adopting the voice of the Raven addressing Eolo. Adjoa Andoh, a seasoned actress with Shakespearean pedigree, pulls it off with divine dignity. 
34. Red Rising by Pierce Brown, narrated by Tim Gerard Reynolds
Irish narrator Tim Gerard Reynolds is back to tell us another tale — this time a dystopian fantasy penned by Pierce Brown.
Red Rising is about Darrow, a young man who belongs to the lowest caste of a futuristic color-coded society. (If you're guessing the color of that caste is red, you're spot on.) Darrow has stood by long enough as the Golds exploited his people, and he's decided it's time to take matters into his own hands: he'll infiltrate the Institute and bring down the oppressive, dominant Gold caste. But doing so will require him to disguise himself as one of them. Can Darrow stay true to himself behind enemy lines? Give Red Rising a listen and find out.
35. The Refrigerator Monologues by Catherynne M. Valente, narrated by Karis A. Campbell
If you've spent any time in online fandom spaces, you've probably read a rant or two about how superhero stories like to "fridge" their female characters. When a woman's been fridged, it means her creator's chosen to treat her like a plot device instead of a character — killing her, injuring her, or robbing her of her superpowers to advance some male character's arc.
In this witty, unconventional novella, Catherynne M. Valente retells the classic superhero story from the fridged woman's perspective — six times. In a conceit that riffs off The Vagina Monologues, six dead women get together for a literal postmortem on their all-too-short careers as superheroes and superheroes' girlfriends. As Karis A. Campbell tells their stories, her voice is as warm and confiding as a friend dishing at your kitchen table.
36. Rivers of London by Ben Aaronovitch, narrated by Kobna Holdbrook-Smith
Calling all urban fantasy fans: Rivers of London's audiobook is as fantastic as the book itself. Though the premise might remind you of Harry Potter — there's a wizard, an apprentice, and a dark force lurking out in the world — Rivers of London is a beast of its own. Peter Grant, for instance, is no eleven-year-old boy: he's a probationary constable who's one day thrust into the Metropolitan's Police "magical" unit: a division that investigates any supernatural happenings in London. But when a swell of strange murders sweeps over the city, Peter discovers that he might be in over his head.
37. Six of Crows by Leigh Bardugo, narrated by Full Cast
This action-packed fantasy heist reads like Ocean's Eleven meets Artemis Fowl, all set in a magical version of 17th-century Holland. On the mean streets of Ketterdam — Leigh Bardugo's answer to Amsterdam — teenage crime prodigy Kaz Drekker runs the show as head of a gang called the Dregs. Known as Dirtyhands, he can steal anything from anywhere — even, presumably, a scientist from the most secure building in the country. At least, he's going to have to try: there's 30 million kruge at stake.
Luckily, Kaz won't have to pull off this caper on his own. He's assembled the perfect crew for the job: five sharp-witted street kids with the perfect mix of talents, from spy craft to demolition. Bardugo tells her story from from all six points of view, and this bevy of narrators tackles them all with crackling energy and plenty of teen spirit. 
38. A Song of Ice and Fire by George R. R. Martin, narrated by Roy Dotrice
Lots of people like listening to audiobooks as a pre-bedtime ritual. While George R.R. Martin's epic (and epically popular) series might not belong to the realm of horror, it could still lead to a night that feels dark and full of terror. Because, if you've avoided watching HBO's TV adaptation of the series, you'll find that you never quite know what's about to happen next in the nine kingdoms of Westeros. Beheadings, eye gougings, flayings, mass murder, ancient enemies, political maneuvering — it's all fair game. For all her faults, the wicked queen Cersei is an oracle of wisdom when she sums up the series in this apt line: "When you play the game of thrones, you win or you die."
P.S - If you find that audiobook narrator Roy Dotrice's voice sounds a little familiar, it might be because he played Hallyne the Pyromancer in the TV series! 
39. Station Eleven by Emily St. John Mandel, narrated by Kirsten Potter
On both the Traveling Symphony's caravan and actress Kirsten's arm, there's a single  is a line from Star Trek: "Because survival is insufficient."
It's been fifteen years since a flu epidemic took down most of the human population, and the members of the Travelling Symphony travel between the scattered communities of survivors, performing Shakespeare and music. Until they reach a reach St. Deborah by the Water, where a prophet threatens the lives of any who dare to leave. 
This is the "present" of Station Eleven, which moves back and forth in time, skillfully conveying the harrowing and human details of "the end of the world" — such as newscasters saying goodbye for the last time. 
40. The Stormlight Archive by Brandon Sanderson, narrated by Kate Reading and Michael Kramer
A fantasy audiobook with a female narrator is as rare as a unicorn, but. But when you spot one out in the world, it's a magical an exciting thing. The first installment of genre wizard Brandon Sanderson's Stormlight Archive series is read narrated by award-winning narrator Kate Reading and her (also award-winning) husband, Michael Kramer.
The first book in the series, The Way of Kings, kicks off this fantastic saga by introducing us to the dark and stormy world of Roshar, and three key characters: Kaladin, a cog trapped in a war he doesn't understand; Brightlord Dalinar Kholin, an army commander starting to doubt his own sanity; and Shallan, a young scholar-in-training potentially on the cusp of unravelling a long-buried secret about Roshar.
41. Temeraire by Naomi Novik, narrated by Simon Vance
This is the story of the Napoleonic Wars — with dragons. As ambitious as that tagline appears, Temeraire lives up to its promise, delivering a rip-roaring tale of valor, high-sea adventure, and friendship in an alternate history that feels as real as the nearest textbook.
Its hero is Captain Will Lawrence, a high-ranking officer in the esteemed British Navy, though his career admittedly takes an unexpected turn when he stumbles upon an unhatched dragon egg. Yet becoming the master of the dragon Temeraire is the least of his problems — especially when war with France's hulking dragon fleet looms on the horizon. Simon Vance, narrator of the audiobook Dune, steps up to the plate for a resounding rendition of Temeraire: his smooth, masterful interpretation adds another dimension to the world and gives the dragons — Temeraire, in particular — the gravity and grandeur that they deserve.
42. Tigana by Guy Gavriel Kay, narrated by Simon Vance
Sure, a rose by any other name would still smell as sweet. But that doesn't take away from the fact that there is power in naming something — and in unnaming something. The people of the world created by Guy Gavriel Kay have been ruled by a tyrannical king, who's forbidden them from speaking the name of their own at world for so long that they've completely forgotten it. (Hint: a key spoiler might just be in the title.)
But silence has gone on long enough, and a handful of brave men and women are ready to face the king to take back their world — and its name.
43. The Wheel of Time by Robert Jordan and Brian Sanderson, narrated by Michael Kramer and Kate Reading
This epic, 14-volume masterpiece is nothing short of a genre institution. In fact, when Robert Jordan died in the midst of writing Book 12, the fantasy community stepped in to make sure his vision would live on: fellow novelist Brandon Sanderson — a longtime fan — took custody of Jordan's extensive notes and gave the series the sendoff it deserved.
The series' magic system, called Channeling, is a particular worldbuilding coup: men and women channel differently, drawing on incompatible "aspects" of the One Power. But the world's Satan-equivalent tainted the masculine aspect, and now no man can channel without losing his mind. In keeping with the series' theme of gender, the acclaimed audiobook rendition uses two voices to accommodate its multiple points of view: husband-wife duo Michael Kramer and Kate Reading read for the male and female narrators, respectively.
44. Witchmark by C.L. Polk, narrated by Samuel Roukin
Called one of the best books of 2018, the charming, Edwardian-inflected Witchmark gives us an original magic system, a touching queer romance, and a good old-fashioned mystery to solve. No wonder it established C.L. Polk's reputation as a rising star — based on its maturity and polish, you'd never known it was her debut novel.
Born with a witchmark, Miles Singer was gifted with healing powers — and cursed with a family determined to use him as a magical pawn. These days, he's working as a doctor, trying to piece back together the veterans torn apart by a war that changed him too. It's an attempt to reinvent himself, but soon his new job brings his old troubles back into his life: after he saves a patient who should have died from poison, there's no more hiding his witchmark. Samuel Roukin's earnest narration invites empathy for this wonderful protagonist. 
45. World War Z by Max Brooks, narrated by Max Brooks, Alan Alda, John Turturro, Rob Reiner
Okay, okay, World War Z audiobook, we see you. This audiobook doesn't have just one narrator, it has four. And not just any four, but a cast of four star-studded voices. And if that's not enough, one of them happens to be the voice of Max Brooks himself, the author of World War Z's author. 
Brooks has written for Saturday Night Live and acted in the Batman movies. As for Alan Alda? He's a six-time Emmy and Golden Globe award-winner, who's been in basically every great TV show ever. Then there's John Turturro, who has been in such acclaimed movies as O Brother, Where Art Thou? and The Big Lebowski. And finally Rob Reiner also lends his voice — he's another Emmy award-winner known for his role in All in the Family. 
If you're not swayed by accolades, don't worry: World War Z is a horror/military fantasy novel that packs a punch. It's a collection of fictional accounts narrated by an agent of the United Nations Postwar Commission, following the worldwide war against zombies. And it's absolutely rife with plot twists and terrifyingly gripping moments that will have you on the edge of your seat.
***
Want to listen to even more speculative fiction? Check out our roundup of the 30 best sci-fi audiobooks.