Blog – Posted on Tuesday, Mar 02
The 13 Best Octavia Butler Books Everyone Should Read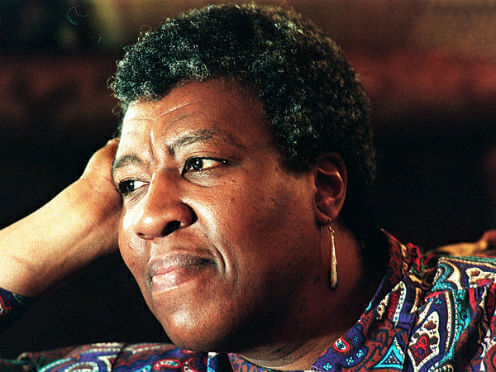 These days, the name "Octavia Butler" is rightly spoken in the same breath as all the great classic sci-fi authors — but few would have predicted her rise to prominence when she was young. A shy, bullied child with mild dyslexia, Butler spent much of her time in the library, falling in love with fairy tales and science fiction novels. Yet from these humble beginnings grew a literary mind full of piercing insight and unique perspectives on the human condition.
Whether you're looking for startlingly accurate commentary on modern-day society, fascinating aliens with intricate social structures, or just want to expand your mind with some of the best science fiction of the twentieth century, Octavia Butler has got you covered. Just pick your favorite from our complete list of the best Octavia Butler books below, or start from the top and work your way down — you won't regret diving into any of these iconic titles. Let's get started!
The Patternist Series
Wild Seed
Despite being the first book in the series chronologically speaking, Wild Seed was actually the fourth book to be published, and its sharp commentary and intricate worldbuilding serve as the perfect introduction to the Patternist series. Doro is a being who hops through life by inhabiting other bodies, killing his hosts when he's done with them; Anyanwu is an immortal shapeshifter with healing powers. The two could not be more opposite, and yet they're each the only other immortal they know. What follows their meeting is a centuries-long story about Doro's twisted quest to create a new race of humans with enhanced powers, and Anyanwu's attempts to survive under his rule, that will haunt you long after you close the last page.
Mind of My Mind
Returning to the world of Doro's rule more than a century later, Mind of My Mind follows the journey of Mary. Born of Doro's experiments, this life is all Mary has ever known. But the telepathic abilities she's been bred to possess prove threatening to Doro's supremacy when he realizes they may rival his own powers. With Mary's ability to link together other telepaths, will the people under Doro's rule finally be able to stand up to the tyrant holding them down?
Clay's Ark
In Clary's Ark, we shift forward once more — not just in time, but in focus. Whereas the first two books of the Patternist series center on Doro and his quest to build a race of humans with special abilities, Clay's Ark examines the same world from a different angle. This time, we follow Blake Maslin and his two teenage daughters as they experience a harrowing trial. Kidnapped by a group of humans who have been infected with a virus that both enhances their abilities and compels them to infect others, Blake and his girls must either risk a near-impossible escape, or accept their fate… And the fate of the rest of humanity.
Patternmaster
The stunning conclusion to the series, Patternmaster brings together the two (now warring) groups of characters from the previous books. Set in the far-flung future, the Patternists, descended from Doro's experiments, are a group of mentally-linked telepaths who can heal or destroy with the power of their minds. The Clayarks are mutants, resulting from the virus of the previous novel, who fight against the Patternists for survival, freedom — and control. This thrilling story is a tale of power struggles, yes, but ultimately, it's about what it means to be human.
Note: There used to be another book in the Patternist series, Survivor, however it's gone out of print because Butler hated it so much. To respect her wishes, we won't include a description in her roundup — however, we wanted to mention it for completion's sake.
The Xenogenesis Series
Dawn
Kicking off this high-stakes, post-apocalyptic sci-fi series is Dawn. Aptly named, Dawn follows Lilith as she is put in charge of overseeing a new beginning for humanity. After surviving a nuclear war, Lilith and the rest of the remaining humans were rescued and put into status by a group of aliens. Now the planet has been healed and it's time for our species to return to this reborn version of home. However, as is Butler's style, everything is not quite as it seems — and the aliens' benevolence comes at a cost.
Adulthood Rites
Picking up a few decades later, Adulthood Rites tells the story of Lilith's son, Akin. Akin is part of a group of alien-human hybrids: an attempt to purge humanity of its self-destructive tendencies. Able to pass as human, but gifted with several extraordinary abilities, Akin is supposed to be the future of the human race. But not everything goes as planned, and before Akin can realize anyone's goals, he's going to need to reconcile his own mixed-heritage identity.
Imago
Wrapping up this breathtaking series, Imago deals once more with human-alien hybrids. With interspecies breeding now a well-established practice, Jodahs did not seem in any way remarkable, until he starts coming of age and finds himself transforming into a sexless subspecies of the alien race — an ooloi. The first one born to a human mother, Jodahs is now at the center of everything. His powers will either hold the key to saving the remainder of humanity — or complete its downfall.
Looking for something new to read?
Trust real people, not robots, to give you book recommendations.
Or sign up with an email address
The Parable Series
Parable of the Sower
Disturbingly prescient, Butler's Parable of the Sower offers a version of the 2020s where climate change, corporate greed, and systemic inequality have led to the near-collapse of society. Lauren, a teenager living in the shadows of this fallen world, deals with hyperempathy: the ability to feel any emotion and pain she witnesses. This condition, coupled with the destruction of her family's once-protected home, leads her to develop a new belief system called Earthseed — which might just be humanity's only hope for survival.
Parable of the Talents
If you thought Parable of the Sower was scarily accurate, wait until you get to its sequel, Parable of the Talents. Told from two points of view (the journals Lauren left behind, and narration from her now-grown daughter, Asha), this sequel tracks the followers of Lauren's Earthseed faith as they watch the nation fall under the influence of hyper-Christian fanatics — one of whom gains the presidency under the slogan "Make America Great Again" (yes, really — and yes, this was first published in 1998). What follows is a harrowing account of slavery, survival, and humanity's quest to escape to the stars for a better future — a goal most of us can easily get behind these days.
Note: Butler had intended there to be a third volume to the Parable series, focusing on the colony's survival in their new world, however writer's block and the (understandable) desire to work on something less depressing meant the book sadly never saw the light of day.
Standalone novels and story collections
Kindred
By far Butler's most well-known novel, Kindred follows the story of Dana, a woman from the 1970s who suddenly finds herself back in the Antebellum South. Through shifting time periods and the uncertainty of never knowing when (or if) she'll be pulled from her life next, Dana starts to understand both the incredible courage it took to survive the brutal South, and the long and terrible shadow the past continues to cast over her future.
Fledgling
The last novel Butler ever wrote, Fledgling is also a sharp departure from much of her earlier work. After suffering several years of depression as a result of her Parables series, Butler decided the best course of action was to write something fun — and what better diversion than vampires? But it wouldn't be an Octavia Butler book if it was all fluff, so make no mistake: Fledgling is more about the journey of an outsider looking to find her place than is it about fangs ­— and there's certainly no sparkles to be found in this one.
Bloodchild: And Other Stories
In many ways Bloodchild, the titular story in this stunning collection, helped put Butler on the map. But even beyond this stunning, multi-award winning tale, Bloodchild: And Other Stories is full of unexpected plots and fascinating insights into the mind of this brilliant writer. Each story contains an afterword with Butler's own thoughts on her writing process, as well as her reactions to the response the stories have generated. For writers especially, this collection is a must-read!
Unexpected Stories
When they titled this collection Unexpected Stories, they sure weren't kidding: this slim volume contains just two never-before-published titles, both released posthumously in this edition. Although these early stories don't have quite the same level of polish and perfection as her later work, they're still worthy additions to your Octavia Butler library, and a fascinating look into what would become the signature style of a towering figure in the science fiction community.
***
Want more stories of Black excellence? Check out our roundup of the Best Toni Morrison Books, or the 70 Must-Read Books by Black Authors.